Council of Canadians - Edmonton Chapter
November 5, 2016 -

1:00am

to

3:00am
November 5, 2016 -

3:00pm

to

11:00pm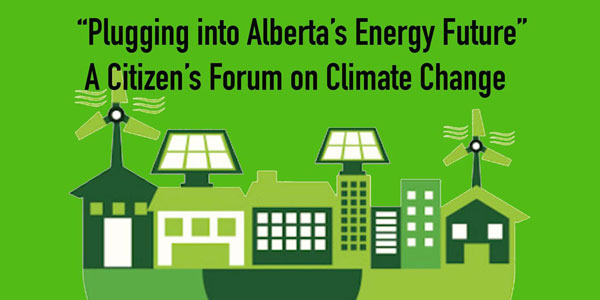 Climate change impacts on all forms of life and on our planet are becoming increasingly more evident around the globe.
The Alberta Government has recently announced its intention to take significant concrete action on climate change. The government is imposing a carbon levy on industrial emitters in an effort to create a "greener" economy in Alberta while reducing emissions.
The Edmonton Chapter of the Council of Canadians invites you to a free public event to explore Alberta's energy future in the face of climate change.
Event details
Friday Panel
When: Friday, November 4 from 7:00 to 9:00 p.m.
Where: Edmonton City Hall, Main Floor
What: "Where We're At, Where We're Going" – A look at what Albertans and the Alberta government are doing about climate change.
Dr. Joe Vipond (Canadian Association of Physicians for the Environment) - Health Effects/Coal-Fired Power Plants
Lucien Royer - State of Labour/Energy Transition
Graham Thomson (Edmonton Journal Political Affairs Columnist) - Political Climate/Energy Transition
---
Saturday Workshops
When: Saturday, November 5 from 9:00 a.m. to 5:00 p.m.
Where: University of Alberta, Education South
What (morning): "Positioning for Transition" – Andrew Nikiforuk, an award-winning writer and journalist joins workshop presenters discuss whether Alberta's plans will be implemented and if they are, will they be effective? Will we get green energy?
Lunch will be provided (donations appreciated).

What (afternoon): "Taking Matters into Our Own Hands" – J. Andrais and three workshop presenters will speak about Edmonton's energy transition strategy and discuss how we will diversify, "green up" and create jobs. How can we all do our part?

The presentations will be followed by an audience Q & A session and discussion.

We want to give you knowledge, tools and resources to build local initiatives on climate change. Like many Albertans, we're seeking actionable solutions! We hope to see you there.

RSVPs are appreciated. Bring a friend!
Locations
Education Centre South
(University of Alberta)
Edmonton
,
AB