January 20, 2016 - 7:00am

to

January 21, 2016 - 7:00am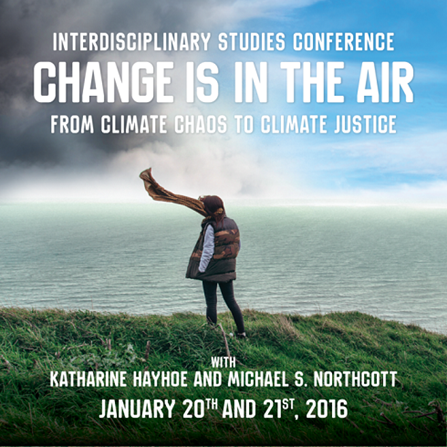 The King's University invites you to its Winter 2016 Interdisciplinary Studies Conference
CHANGE IS IN THE AIR – in more ways than one. On one hand, the climate is changing. Overwhelming scientific consensus confirms the reality of climate change and warns of the threat it poses to the planet and its human and non-human inhabitants. These warnings have prompted urgent appeals, not simply for changes in action and policy, but also deeper changes in how we think about and imagine our relationship to the creation itself. But change is in the air in other ways too – as vulnerable communities respond to the challenge of global warming, as our reliance on the carbon economy is being questioned, and as political leaders try to hammer out a global climate agreement, change is inevitable.
The Winter 2016 I.S Conference, Change is in the Air: from Climate Chaos to Climate Justice, takes place January 20, 21, 2016. We will learn from keynote speakers Katharine Hayhoe and Michael Northcott, and several other guest presenters.
In addition to regular daytime events there will be a Wednesday evening panel conversation featuring Katharine Hayhoe, Michael Northcott, Andrew Leach, John Parkins, and Willard Metzger.
Also, please consider joining us for Driving the Future a business community breakfast Thursday morning where we will learn about how some entrepreneurial business leaders are innovating technical responses to the changing environment. Kent Rathwell of Sun Country Highway will be the featured speaker – tickets for the breakfast event can be purchased on Eventbrite.
IS conferences are open to the public and we welcome all to attend as much of the conference as you like at no cost. Events begin both days at 9:00 in the gymnasium.
Location
The King's University
T6B 2H3
Edmonton
,
AB